Contributors
The following is a list of the major contributing institutions. Contributing individuals are mentioned in the AUTHORS file distributed with Equalizer.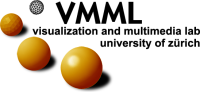 The Visualization and MultiMedia Lab at the Department of Informatics, University of Zürich has supported Equalizer since March 2005, with Stefan Eilemann leading the project development.

The Computer Perception and Virtual Reality (CPVR) research group of the Berne University of Applied Sciences is using Equalizer for their Virtual Reality research, and currently maintains the OpenSceneGraph integration.
Contribute to Equalizer!
Equalizer is an open source project, and therefore the open source community is important to us. Whether you are representing an institution or if you are an individual contributor, we welcome your contributions.
We think Equalizer is a cool project, where you can learn a lot about hot topics such as 3D visualization, parallel programming and distributed systems. The VMML is accepting diploma thesis and similar student works around Equalizer.
Drop us an email or ask on the mailing list if you have any open questions. If you are not sure were to start, below are a few ideas we think are important, in no particular order:
Documentation: Good documentation is important for Equalizer. While we try our best, we have limited time and sometimes we are just to immersed in the details. We are looking for a User Guide, contributions to the Programming Guide and stand-alone HowTos for whatever you feel needs documentation.
Better Mac OS X Integration: An XCode project, creation of proper frameworks and application packages will help Apple developers. We are also looking for a Cocoa port to support 64 bit natively, not just via X11.
Support and Promotion: Write a new review, subscribe yourself to the mailing list and support people where you can. Link to this website and let people now what Equalizer is capable of.
Applications: Start porting your own OpenGL-based application, or pick an existing one. A few suggestions from our side are:
New Features: Head over to the Feature List or suggest your own feature which is missing from Equalizer. We are happy to give you guidance on the design and implementation, if needed.